Technical Tips For Measuring Shaft Collars and Couplings
How to Measure Shaft Collars and Couplings
Selecting the correct shaft collars requires understanding product specifications and how the part you are buying will be used.
Important specifications to review when selecting collars include:
Thread types

Width

Bore diameter

Outer diameter

Axial load capacity
Measured in pounds (lbs) or kilograms (kg), axial load capacity is the maximum load that can be applied along or parallel to and concentric with the primary axis. Source: According to Engineering360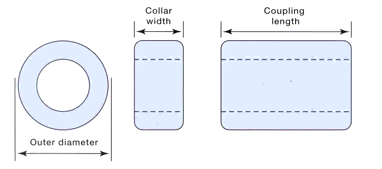 Improper selection of couplings can lead to premature failure, and excessive wear, cause failure in expensive components like bearings, shafts, and gears, and most importantly can result in costly downtime.
Important specifications to review when selecting couplings include:
Application Requirements and Variables (torque, stiffness, etc.)

Addressing shaft misalignment concerns

Operating environment
Become an Authorized Distributor
Sign Up and Become an Authorized Distributor
Never pay a minimum charge for standard stocking items

Get same-day shipping when you order Monday through Friday by 3 pm EST.

Blind drop ship to your customers (without paying extra for the service)

Take advantage of our kitting and private labeling services

Full 90 days to return products. (Please note, some returns may be subject to a 20% restocking charge.)

We guarantee outstanding services like no minimums, same-day shipping, quick turnaround on custom quoted parts, callbacks when promised, and 100% customer satisfaction.